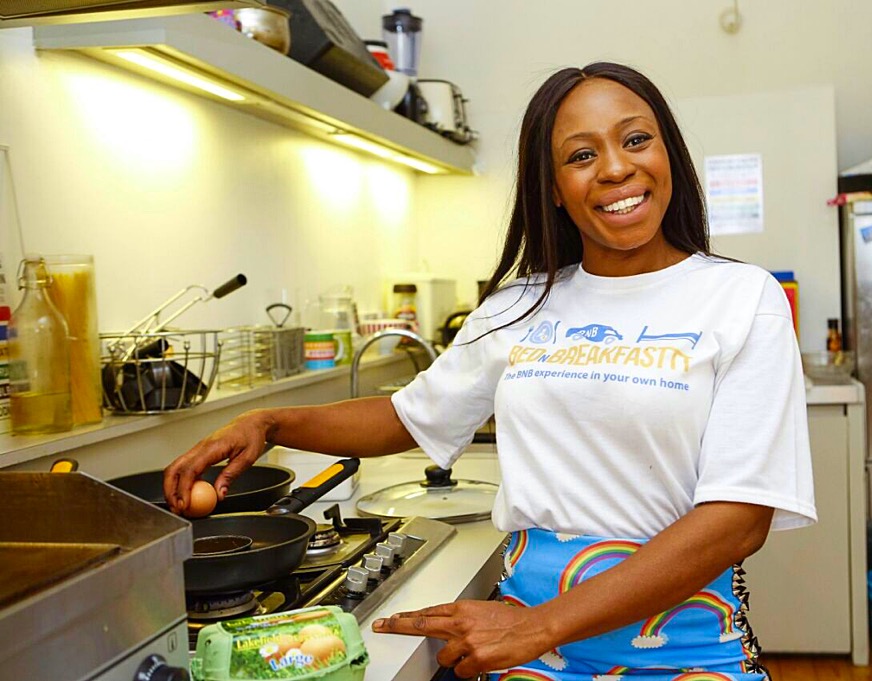 Hannah McDuffus believes breakfast is the most important meal of the day. Three years ago she started BedNBreakfasttt, London's first breakfast delivery service – and serviced apartment guests are some of her best customers.
It was whilst she was living in Taiwan that 36-year-old Hannah McDuffus first came across the idea of a breakfast delivery service. "I remember thinking what a great idea it was and kept it in the back of my head."
Fast forward to early 2015 when Hannah was looking for a business idea that would work around being a mum, and BedNBreakfasttt was born, offering freshly cooked breakfasts to homes and businesses in south east London where Hannah lives.
"It always seemed crazy to me that you could get dinner delivered but not breakfast. I started researching and realised there was huge gap in the market. I have always loved cooking and knew the importance of a proper breakfast. At the time I was working as a teacher but the hours were long and I wanted to be able to see more of my daughter.
"A few years before I had set up a breakfast club at a school where I was working and having a proper breakfast made such a difference to the pupils," she adds.
Hannah found heat retaining packaging which meant that her cooked breakfasts could be delivered piping hot and then sourced the best local suppliers around Greenwich and Woolwich she could find including Heaps Sausages, The Very Green Grocer and Seasons Bakery.
She launched on Valentine's Day in 2015, with heart shaped eggs on the menu, and BedNbreakfasttt was an immediate hit, with both The London Evening Standard and BBC Radio London interviewing Hannah about her new venture.
"The response from people was wonderful. We had everyone from students and single people, to families and office workers ordering our breakfasts. I remember one of the first deliveries I did was to a women who had broken her leg and couldn't get about. She was so happy to have breakfast delivered."
At first Hannah prepared, cooked and delivered all the breakfasts herself but now she has an assistant, who helps her in the kitchen, and a driver. BedNBreakfasttt is open 7 days a week, from 8.30am til midday during the week and til 2pm at weekends. They also take orders through Just Eat, Uber Eats and have recently been added to Deliveroo.
It was when Hannah was driving past the new Staycity apartments in Greenwich that she had another lightbulb moment, and realised that they could be a new market for her breakfasts.
"Staycity is like a hotel, but with apartments instead of rooms, and when I Googled later I saw that they had no restaurant facilities. People could, of course, cook in their apartment kitchens, but for many people buying all the ingredients could be a hassle," she explains.
Initially when Hannah contacted Staycity they told her that they had plans to do something themselves, but when this didn't work out they agreed to let her do a presentation on what BedNBreakfasttt could provide.
"I am not someone who ever likes to take no for an answer so I didn't give up!" smiles Hannah. "As soon as I did the presentation they were won over."
They launched the service for Staycity guests in Greenwich High Road and Deptford Bridge in August last year and on the first day they had over 30 orders.
"We started with a bang," she recalls. "On the first day we had to contact our suppliers to deliver extra."
Since then they have supplied over 1000 breakfasts to Staycity guests, and their continental breakfasts are particularly popular during the week.
"A lot of people stay for work and the other day I noticed someone leaving the apartments with one of our bags. If you don't have time to eat there, it is so easy to take your breakfast with you. That works for our cooked breakfasts too as they are all packed up in heat retaining boxes."
Hannah has also supplied other apartments in Greenwich and Shadwell and more have been in touch to enquire about BedNBreakfasttt.
At Staycity guests choose from a 7am or 8am delivery slot and can order up to 11.30pm the night before.
Nasser Shaher, General Manager Staycity London & York explains the appeal. "It is a great added benefit for our guests to be able to get a freshly prepared breakfast and the service we get from Hannah is excellent. The presentation she did for us just blew us away. The food was served piping hot and she explained how it was all locally sourced too."
BedNbreakfasttt also offers a popular roast dinner on a Sunday and Hannah is talking to Staycity about possibly extending the service she provides them to include evening meals too.
"When people arrive at an apartment they don't necessarily want to head back out again to get something to eat. This would give them another option," says Hannah.
So watch this space!
Visit www.bednbreakfastttt.co.uk for more information.
Image: Supplied by BednBreakfasttt