10 Reasons To Visit Bath
1. Admire the architecture
Founded in the 1st century AD by the Romans, who used the natural hot springs as a thermal spa, Bath has an awe-inspiring heritage that has earned it UNESCO World Heritage status. This is partly thanks to the beautiful architecture found right across the city, particularly the many Georgian and Regency-period buildings. Explore on foot to see distinctive individual buildings up close, including Bath Abbey, the Assembly Rooms and the Pump Room ? then stroll along the many grand Neo-classical Palladian crescents, terraces and squares, including the world-famous Royal Crescent and The Circus. You can download a free audio tour and route map from visitbath.co.uk, which leads listeners on a journey through the city, or join a guide for an organised walking or bus tour.
2. Take the waters
Head to the wonderfully-preserved Roman Baths, an iconic landmark where you can taste the famously curative spring water. These are Britain's only natural thermal spa waters, containing 43 minerals, which for centuries drew visitors in their droves. Originally treatments were focused on bathing in the hot waters, then in the late 17th century people started actually drinking the spa water to treat a range of health conditions. Take a tour of the historic bathing complex and taste the water from a spa fountain in the west baths, or from the traditional fountain in the Georgian Pump Room above.
3. Relax like a Roman
Just as the Romans once did, you can also take some time out from the bustling crowds to bathe in the spa waters. Thermae Bath Spa is a contemporary, state-of-the-art complex with a beautiful rooftop pool where you can take a dip in the mineral-rich waters. Pass through a series of relaxing and reviving aromatic steam rooms, and then take your pick from the array of spa, health and beauty packages on offer. There are the usual spa treatments such as body wraps, facials, massages and hot stones spa therapy, or you can experiment with a more unusual option such as Watsu or a Kraxen Stove treatment.
4. Indulge in gourmet delights
Bath's restaurants showcase some of the finest produce from across the West Country, which has a well-earned reputation for serving up delicious, gourmet food. Many establishments pride themselves in offering creative menus inspired by fresh local produce that change with the seasons. Choose from trendy gastro pubs, cosy bistros, laid-back caf?s or upmarket restaurants to indulge in some of the region's mouth-watering gastronomic delights.
5. Get a lesson in literature
Bath has many strong literary associations, but the link with 18th century novelist Jane Austen is the most celebrated of all. The Jane Austen Centre, housed in a period building in the heart of Bath, uses costumed character guides and a whole host of fascinating paraphernalia to give visitors a real insight into her life in the city, and how she felt about Bath society ? which provided the inspiration and backdrop to two of her most famous books: Persuasion and Northanger Abbey. Afterwards, recharge your batteries with some afternoon tea at the charming Regency Tea Room.
6. Discover independent Bath
With a well-earned reputation for its unique boutique shops, Bath offers a delightfully different retail experience. All of the usual high street names can still be found here, particularly in the modern Southgate area, but if you make your way through the maze of narrow lanes and arcades criss-crossing the centre you will also find a refreshing selection of totally independent shops. You can take your pick of artisan foods, designer clothing, handmade jewellery, chic footwear, contemporary furniture, antiques, toys and beauty products. Independent shops thrive in Bath, often showcasing the work of talented local artists, designers and producers, making it an exciting destination for discerning shoppers.
8. Soak up city views
South of the centre, just beyond the river, Alexandra Park is perched on top of a wooded hillside, giving you the chance to get a bird's eye view of beautiful Bath. Covering 11 acres ? incorporating open spaces, mature trees, and a play area ? you can reach the park on foot via a long flight of steps known as Jacob's Ladder, or you can take the easier route and drive to the entrance at Shakespeare Avenue. The walk back down to the city centre through Beechen Cliff can be a bit challenging in places, but is well worth the effort! Alternatively, you can also enjoy panoramic views of the city from the Bath Skyline: six miles of way-marked footpaths passing through wild flower meadows, hidden valleys and peaceful beech woodlands.
9. Laugh yourself silly
If you're looking for something hysterical rather than historical, join Bizarre Bath for a street theatre-style comedy walking tour that offers an entirely irreverent take on the city. You'll be led on a gentle evening stroll that's full of surprises, improvised moments of madness, and plenty of laughs ? including a lot of ad libbing with unsuspecting passers-by. To join in the fun, simply head to the Huntsman Inn on North Parade Passage by 8pm and set aside about 90 minutes.
10. Sip cocktails in Style
Many of Bath's most atmospheric night spots are hidden away in grand buildings, and the city specialises in chic cocktail bars. On a chilly winter's evening you can hole up in one of the city's vaulted, underground cellar bars, while there are outdoor terraces and leafy gardens for balmy summer nights. For fabulous cocktails prepared by expert mixologists, head to the plush surroundings of Sub 13 or relax in the Dark Horse Bar, which made it into the top four worldwide in 2016's Annual Spirited Awards for "Best New International Cocktail Bar". Alternatively, browse the Jane Austen-inspired menu at The Canary Gin Bar, or head underground to the atmospheric Opium bar or The Confessional.
Points of Interest in Bath
Jane Austen Centre
Charming museum in a Georgian townhouse with a permanent exhibition dedicated to Jane Austen who lived in the city from 1801-1806. There's also a delightful tea room - well worth a visit. (More Info)
The Circus
Also known as the King's Circus, this is a beautiful circular street of stunning Georgian townhouses.
SouthGate Shopping Mall
Elegant shopping mall with 50 stores plus eateries.
Bath Abbey
Bath Abbey is a beatiful historic cathedral in the heart of Bath city centre. The Abbey is free to enter but donations are welcomed in lieu of admission price - £4 for adults and £2 for children.
Bath Spa Railway Station
Major railway station in city of Bath providing connectivity to London and locations in between.
Royal Crescent
One of Bath's most recognisable and iconic sights - this is a Grade I listed semi-circle of 30 terrace houses.
You might also be interested in...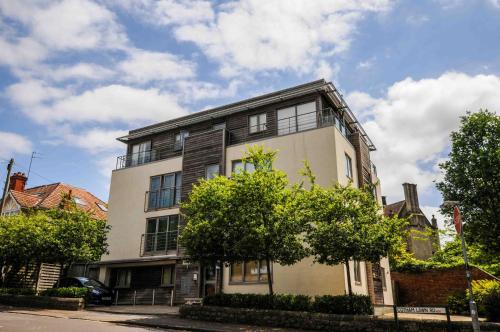 75 apartments available.
University city at the mouth of the Avon with a proud maritime history.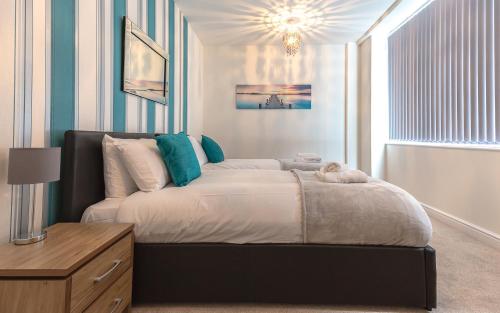 14 apartments available.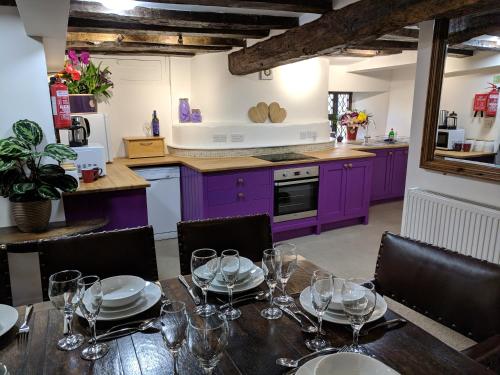 3 apartments available.
The market town of Stroud played an important role in the industrial revolution.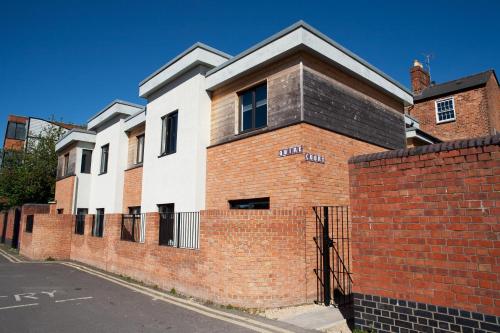 10 apartments available.