10 Reasons To Visit Bristol
1. Step back in time
Brunel's famous SS Great Britain, which dominates the lively Harbourside area, is an award-winning, world class attraction that gives visitors the chance to climb aboard and step back in time. Discover what life was like for well-heeled Victorian passengers - as well as for the cooks, doctors and other staff working on board the ship. If you want to step into the shoes of a Victorian sailor, however, the best way to do that is to pay a little extra for the 'Go Aloft' experience - which gives you the chance to climb the rigging up to a fantastic viewing platform more than 26 metres above ground level. Unlike your Victorian counterparts, however, you will enjoy the luxury of being strapped into a harness...
2. Get on the water
Rich in heritage and always a hub of activity, Bristol's Harbourside is one of the city's most fascinating areas. Gain a fresh perspective on the city by hopping aboard one of the frequent ferry boats for a tour of the Harbourside. You will find regular services leaving from the Bristol City Centre Landing, located near the Tourist Information Centre and Watershed arts centre in the heart of the city. Ferries run in two directions - towards Hotwells, and towards Temple Meads - but it is well worth paying to enjoy the entire trip both ways to see a large chunk of the city from the water. Alternatively, for a more adventurous trip on the water, try your hand at stand-up paddleboarding with SUP Bristol by booking for an evening taster session or a weekend day course.
3. Learn about Bristol from a local
You can join Bristol Free Walking Tour, led by a local resident, for a superb, budget-friendly way of exploring the city on foot, and meeting new people. Taking in the city's most famous highlights, and uncovering some lesser-known jewels tucked away from the well-trodden tourist trail, the tour takes place on Saturdays and Sundays at 10.30am and 2.30pm. In around two hours you will covers some of the city's history and culture, and hear anecdotes and stories about residents past and present. There is no need to book, and no obligation to pay - you can simply contribute whatever you think the tour is worth. Meet in front of the Victoria Rooms, on the Clifton Triangle, and look out for a guide wearing bright green.
4. Go wild at Bristol Zoo
In the leafy, peaceful Clifton suburb you will find Bristol Zoo - the fifth oldest zoo in the world - which packs in an impressive variety of species and attractions considering its relatively compact size. Some of the zoo's most popular highlights include feeding time at the Seal and Penguin Coasts; unusual animal discoveries in Zona Brazil; an amazing array of creepy crawlies in the Bug World area; water play at Explorers' Creek; and entertaining antics at Gorilla Island and Monkey Jungle. You can even swing alongside some of the most popular animals at the zoo by embarking on the ZooRopia adventure ropes course!
5. Enjoy a bird's-eye view
Clifton Suspension Bridge is the iconic, world-famous symbol of the city. Strolling across it you can enjoy breathtaking views of the Avon Gorge below from 75 metres above the high tide mark. When you reach the other side visit the free Visitor Information Centre to learn about the competition to design the bridge, and how it was constructed - including the method used by daredevil bridge builders to get the suspension chains from one side to the other.
6. Watch glass-blowing in action
Bristol blue glass has been made in the city since the 18th century, with a lengthy break in production between the 1920s and 1980s. The current studio was founded in 1988 in a bid to re-establish a tradition that had been lost for over 60 years. Although the studio at Arnos Vale is most famous for its traditional blue glass, the range also includes other colours like the vibrant ruby artisan glassware, and some unique handmade jewellery - and you can watch glass-blowers showcasing their skills.
7. Tinker with some hands-on science
At Bristol is one of the city's most exciting and innovative attractions: a science discovery centre with an ever-changing variety of interactive, hands-on activities for all ages. The two-storey centre is also home to the UK's only 3D planetarium, and offers inspirational live shows and activities which are designed to spark curiosity about the world we all live in.
8. Play at being Lord or Lady of the Manor
Set in 540 acres of rolling parkland, immaculate gardens and ancient woodland, Tyntesfield is a spectacular Victorian Gothic Revival mansion just a short drive away from Bristol. Inside, the maze of rooms at this National Trust property includes a billiard room, a stunning library and an elaborate Anglican chapel. Outside, the estate is a haven for wildlife, with ponds, orchards, wild flower meadows, woods and fields, with lovely far-reaching views over the surrounding countryside.
9. Embark on a nightmarish experience
For a twisted evening out, 'Hell in a Cell' is a Bristol-based underground horror escape experience that promises to give you nightmares for weeks afterwards. Book your place and head into the deep, dark, creepy prison cells beneath Bristol's Old Crown Court where you'll need to keep your wits about you if you want a successful escape from the horror film-like scenes you'll be about to witness!
10. Pamper Yourself
After all that excitement you may need to recuperate with a spot of pampering. Bristol's luxurious Lido - one of the oldest surviving lidos in the UK, dating back to 1849 - combines an outdoor swimming pool surrounded by a spa, an award-winning restaurant, and a tapas bar. The Grade 2-listed building was saved from demolition and painstakingly restored to create a beautiful venue for relaxed swims, celebrations and a range of exceptionally pampering spa treatments.
Points of Interest in Bristol
Bristol Zoo
Zoo dating back to the 1830s with over 400 species including penguins, seals, gorillas, flamingos and a reptile house, plus much more.
Cabot Circus
Cabot Circus is a modern shopping mall in Bristol with a wide range of shops and eateries as well as a 13 screen Showcase Cinema De Lux. Stores at Cabot Circus include House of Fraser, Apple and Harvey Nichols.
Bristol Parkway Railway Station
Oldest and largest railway station in Bristol with train services to and from London Paddington.
Clifton Suspension Bridge
Famous Grade I listed suspension bridge across the Avon which was based on an original design by Isambard Kingdon Brunel. The bridge, which opened in 1864, has a visitor centre and gift shop at the Leigh Woods end.
ODEON Bristol
Large multiplex cinema in Bristol showing the latest blockbusters.
Castle Park
Green space next to the Floating Harbour with the ruined tower of St Mary-le-Port church.
University of Bristol - Senate House
Senate House in Tyndall Avenue is the main building of the University of Bristol - a multidisciplinary uni which was established in 1909. (More Info)
Bristol Airport
International airport with flights to destinations like Paris, Amsterdam, Rome, Stockholm and Prague.
Bristol Temple Meads Railway Station
Oldest and largest railway station in Bristol with train services to and from London Paddington.
Brunel's SS Great Britain
Designed by Isambard Kingdom Brunel, the SS Great Britain was an advanced steamship that was the longest in the world during the middle part of the 19th century.
You might also be interested in...
68 apartments available.
Historic city which is famed for its architecture and Roman baths.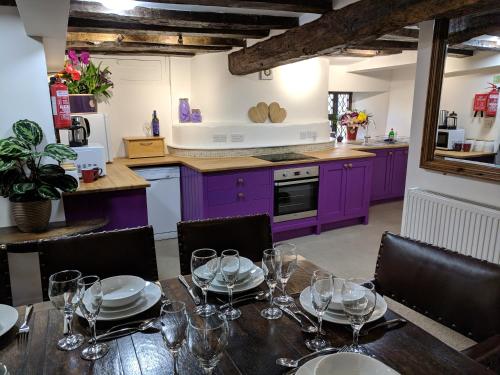 2 apartments available.
The market town of Stroud played an important role in the industrial revolution.
52 apartments available.
City centre apartments in Wales' capital city.